When Shivon's mother, Sally, reached out to me in early July, asking about bridal beauty services for her daughter's wedding the following month – again I was nervous (read my last post regarding my nervousness of doing weddings during this pandemic). However, I did agree, as Farah and I were available on those 2 dates. I came to know that her wedding was originally scheduled for May of 2020. But, because of the pandemic, it was pushed out to the end of August. Her original MUA that was hired, either wasn't available for the wedding or just was not providing services (again, because of the pandemic). The worst part? The original MUA did not refund her retainer. I guess no one expected a pandemic arrive, and vendors did not have a clause for pandemic-related cancellations/rebookings.
There were a few hiccups in the beginning, due to communication issues – Sally wasn't tech savvy, as most parents from the earlier generations aren't (including mine) – so trying to get a contract out to her was trying. However, we smoothed over these bumps and next thing you know, the wedding day was here!
Shivon's wedding was on a Friday, Farah and I arrived to her mom's house to set up – at about 9:30 am.  She wasn't too sure of what she wanted, except that she didn't want anything too dramatic dramatic. Just to be on the safe side, I showed her my Instagram page, and had her point out any past clients that stood out to her. She opted for a gold/bronzey eye, and I convinced her to don red lips.
In the Guyanese tradition, the bride walks the aisle in a yellow outfit, and then changes into a red outfit towards the end – signifying the completion of marriage.  In our bride's case, she wanted to leave the house in a blue and pink lengha (a top with the ankle length skirt), and then change into her yellow outfit once she arrived at the venue. Before her grand entrance, she was to change into her yellow lengha-sari. And then at the end, into her red outfit. Farah was to meet her at her venue, the Cotillion in Jericho, NY , and then help her with all of the outfit changes.
The following are some of her photos before she left her house: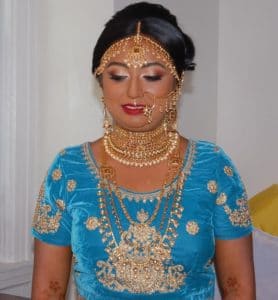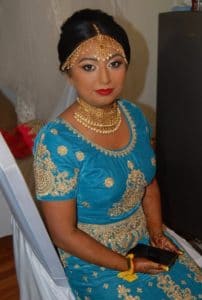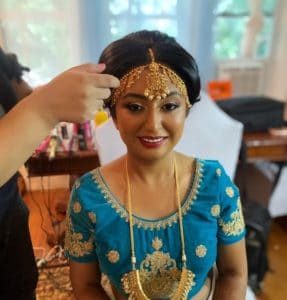 This is me, with all my gear, working on Shivon: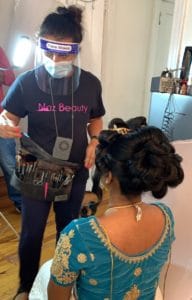 As I was mostly in touch with Sally (Shivon's mother), it's only fair to post a photo of mother and daughter: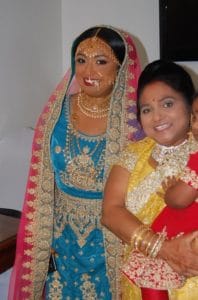 One final look in the mirror before heading out: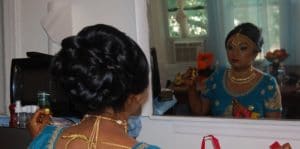 The actual photographers showed up before 11 am, and we were cramped in the small room, trying to maneuver around each other. It is essential, my dear future brides, that you coordinate a time with your photographers so there isn't too much overlap with your beauty team. They slow us down, when taking photos of the bride, when we are trying our best to get her ready on time. Most of the time, most photographers know to let us be, and start with test shots, and photos of the bride's outfit(s), jewelry, invitations, etc. We advised them to take photos of her outfits and such, and they brushed us off, saying they will do so later. What really set off our fuse was that, one of the 2 in the team brushed past our hair table, and knocked down a very pricey hair tool. Luckily it was unharmed. #endrant
Farah met Shivon and family at the Cotillion, around 2 pm. Unfortunately, the priest (pandit) was running very behind schedule. He was over 3 hours late, and the bride definitely was not happy. Farah tried her utmost best to calm Shivon's nerves, and it worked somewhat. Here is the bride in the empty wedding hall: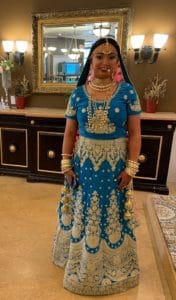 Finally, her yellow lengha-sari was outfitted on her, and she was ready to walk down that aisle: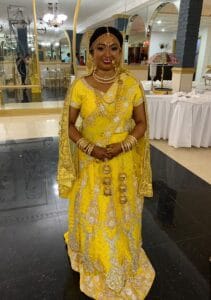 She looks absolutely stunning and I wish I had more photos of her in that outfit!
While her ceremony was starting, Farah stepped to the local coffee shop. She was supposed to return at about 6 pm to help the bride change into her final outfit, the outfit that she was going to her in-law's house in, after the wedding. At about 5:30 pm, she received a text from the bride's sister, to return to the venue. Then shortly after, Farah was dismissed, as the bride was too exhausted to change into her final outfit. After verifying with numerous family members (and myself), Farah was able to leave.
What a day! This is the inside look of our brides and their wedding days that we go through. Each of our clients are different, therefore each wedding makeup and hair that we do, is different. Until next time, keep those cheeks glowing!