When Jereena reached out to me a few weeks before her wedding, it was shortly after New York started lifting its restrictions with large gatherings, due to the pandemic. A majority of my 2020 brides have moved their weddings to 2021, so needless to say, I had vast availability. But, as I haven't provided makeup services since early March, I was more than a little nervous to start taking weddings now. Yet, we couldn't keep living in fear, so I responded to Jereena and let her know that I was available. After a few back and forths, we were booked and ready to go.
Farah and I arrived earlier than scheduled – and were greeted by the smiling bride. Since we haven't had a chance to conduct a bridal hair and makeup trial on Jereena, due to the short notice, Jereena had provided us with specific photos (and videos), in advance, of what she is looking for as well as photos of herself. After spending some time setting up, we were ready to start. Farah started with Jereena's hair, and I started with the makeup for the matron of honor, Smitha.  Smith looked so familiar, and then I remembered her from a wedding I did back in September! What a small world, no? Smitha wanted a soft, natural look with deep lips, which I was able to deliver: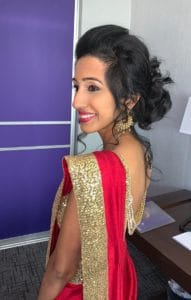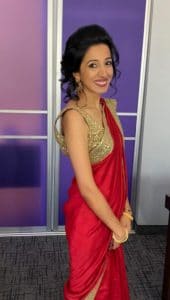 I cannot get over how beautiful the bridesmaid's saris looked! The red and the gold was just gorgeous with the blinged out gold top. I admit that I am a bit jealous because none of the bridesmaid saris that I wore many, many years ago were ever this nice..shhhh..don't tell my friends!
Jereena's hair was really thick, so the timeline went over a bit. Because of this, I worked on the other bridesmaid, Lexly. Now Lexly wanted a soft look as well, but with more hues of gold on her eyes. I used liquid foundation by CoverFX for the bridal party, instead of my usual full-on cream foundation, because it looked less like a mask, and more of a natural look. None of the girls wanted false lashes, except the bride. Here is Lexly with her makeup and hair: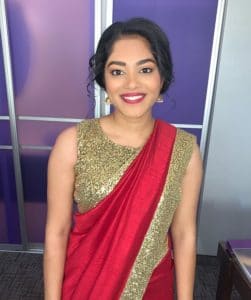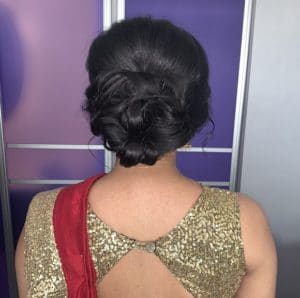 Finally, the bride's hair was done, and it was well worth the wait! It was absolutely gorgeous. I asked her if there's anything that she doesn't want, in terms of makeup. She showed me a photo, and informed me that she didn't want dark eye shadow on the outer corners of her eye, that she simply wants a blended blush like color over there. She also wanted my shortest lashes, which at the time were my Ardell demi wispies. I airbrushed her with my Temptu airbrush foundations with a coral pink blush. A very soft contour was used, as she already has an angular face. At the end, she was very happy with her look.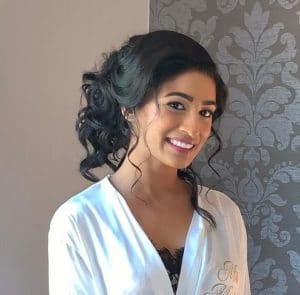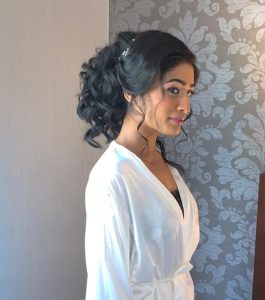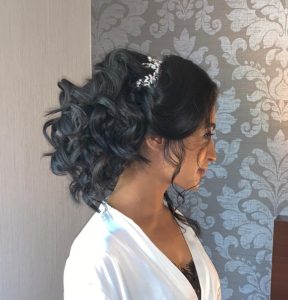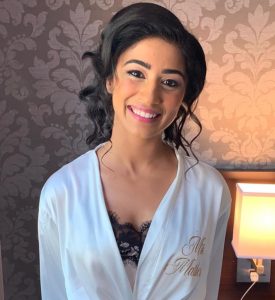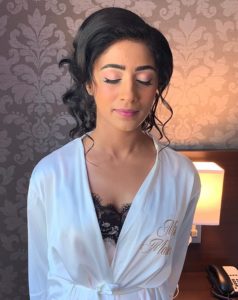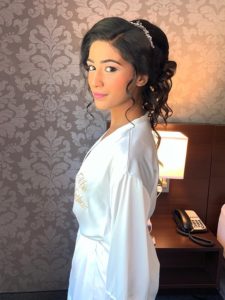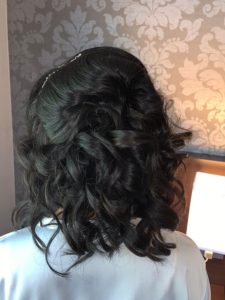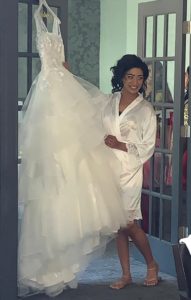 Finally last but definitely not least, was the mother of the bride for makeup. She was so easy to work with, and such a sweetheart – I could tell where Jereena got her demeanor from! I gave her a natural look using one of my Viseart palettes. I also used Yves St Laurent's blur primer, as it works wonders on mature skin. Because she had oily skin, I stuck to liquid foundation by CoverFX and used minimal of Lancome's Absolue Powder – this is my favorite powder to use on mature skin, as it hides imperfections and gives a youthful glow. Mom was happy, I was happy.
Four hours later, we were done. Our second wedding of the weekend, and it was a success. The photographer showed up and took getting ready shots of the bride, which I can't wait to get my hands on. Especially because my Nikon's battery was dead – I guess I didn't think to charge it since March, the last time it was used. Thankfully, our iPhone photos in portrait were able to capture this gorgeous wedding.
Thanks, Jereena, for choosing us for your big day and trusting us!
Hair: Farah from Naz Beauty
Makeup: Naz from Naz Beauty
Photographer: HK Photography
Hotel: Royal Regency in Yonkers
#bridalhair #bridalmakeup #nazbeauty #onlocationhairandmakeup #bride #newyorkweddings #longislandweddings